REISESKIZZEN UND
ARCHITEKTURZEICHNUNGEN
Historische Städte wie Venedig, Florenz, Dresden, München, Nürnberg, Bern, etc. halten faszinierende Angebote und Momente für persönliche Erfahrungen und Kenntnisse mit der Poesie von Stadt- und Platzräumlichkeiten bereit. Die ungewöhnlich reichhaltigen und fantastischen Entdeckungen bei Aufenthalten und Begehungen der historischen Orte mit skizzenhaften Notationen festzuhalten, sind Ziele der künstlerischen Tätigkeiten. Die Auseinandersetzung und das Verstehnen von architektonischen und kunstgeschichtlichen Bezügen auf Gestaltqualitäten mit dem Sehen und Beobachten sind mehr oder weniger intensiv. Die Notation von gesehenen und erlebbaren Bildern, vorallem auf Reisen, in Form von Skizzen mit einfachen handgrafischen Mitteln erkennen wir bereits zu sehr früheren Zeiten mit Canaletto, Goethe, Schinkel, Turner u.a. aus der Rückbesinnung mit grossem Respekt und Staunen.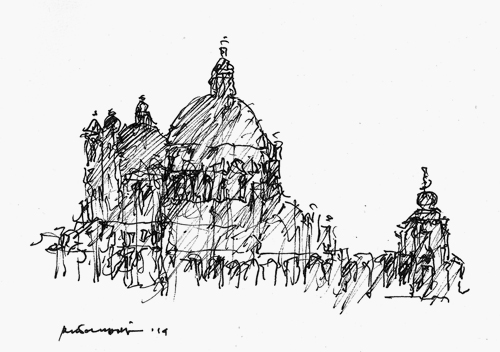 VENEDIG, ITALIEN
"Once favourite destination of the Grand Tour, undisputed homeland of the pictorial "vedutismo", Venice has been living for centuries a blessed relationship with the art of drawing. Which is a perfect way to investigate the city with love and painstaking slowness, to recreate with a gesture at the same time ancient and only at first glance natural the magic of its more celebrated views or of details unknown to the too fast visitor. Its current days are not easy, but even today Venice appears unaltered in its beauty when one knows how to overstep the barrier of the more polished and unoriginal way of portray it. To whom has eyes to look properly at it, Venice still repeates the miracle to appear every time new being always the same, today as much as in the forever lost times of Canaletto and Turner."

Riccardo Domenichini, Università Iuav di Venezia, Archivio Progetti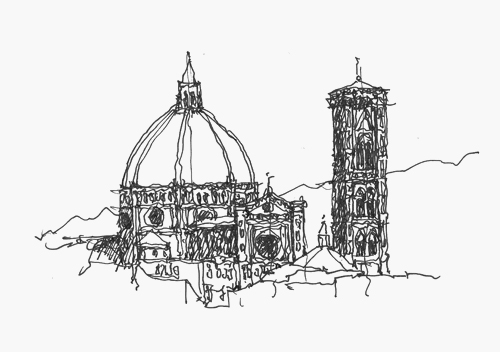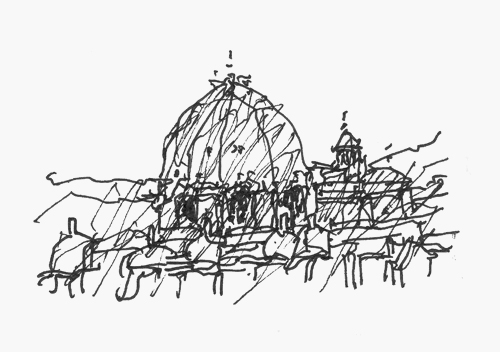 FLORENZ, ITALIEN
"The pencil marks a point which liquefies into a line densefing relentlessly what goes through the eye into the hand, impressions that a filtred through the ritual of countless observations, sharped by the continous growing knowledge of the impact of black ink on white paper.
Like a seismograph the pencil registers the trembling and excitement of the immediate experience: Dark and dense zones reach out with tremulous lines, disentangle themselves, disolving into white, small staccatos dots, tender crosshatching, knots and twine, bundle and clew and all od a sudden a fiew vertical clean lines establish distance and perspective at the bottom oft he plane."
Dipl. Arch. ETH/BSA Franz Romero, Zurich
MÜNCHEN, DEUTSCHLAND
"Was an den Zeichnungen Rudolf Deils mir zuerst auffiel, als ich sie vor längerem entdeckte, ist deren Raumhaltigkeit. Es scheintr nicht so sehr etwas die Beherrschung der Linearperspektive zu sein, die bei ihm etwas den Einblick in Gassaen und Plätze städte- und siedlungsbaulicher Altbestände räumlich erscheinen läßt. Dies selbstverständlich auch. Erstaunlich ist indessen, daß Außenansichten von Einzelbauten oder Ensembles deren innere Räumlichkeit, deren Kubatur so deutlich mitteilen, daß man unwillkürlich beim Anblick der Gebäude sich auch als Gast von deren Innerem fühlt – gelegentlich bis in doe Schicht des Milieus hinein."
Dr. Gebhard Streicher, ehem. Chefredakteur "werkundzeit" Deutscher Werkbund DWB, ehem. Lehrauftrag Akademie der Bildenden Künste München
BERN, SCHWEIZ
"The fixated moment:

light/gentle but not unserious, almost cursory without being imprecise, often dreamy and filled with love for what he sees, Rudolf Deil virtuosic notes his sentiments in the drawing. However the keen sense of the to be drawn object makes his notes precise, complete and critical. His eye perceives the environment that his pencil captures graphically. He experiences the town with its diverse problems and beauties, to show it to others. That is the drawer whom the city generously trusts. His drawings are non-reduced but compact nuanced states of a worth seeing environment."

Dipl. Ing. Caspar Baum, Artist and Architect, Hong Kong/China
ROM, ITALIEN
"l`umano, l`occhio-essenziale, ha bisogno l`imagine"
Leonardo da Vinci, ital. Maler, Zeichner, Bildhauer und Universalgelehrter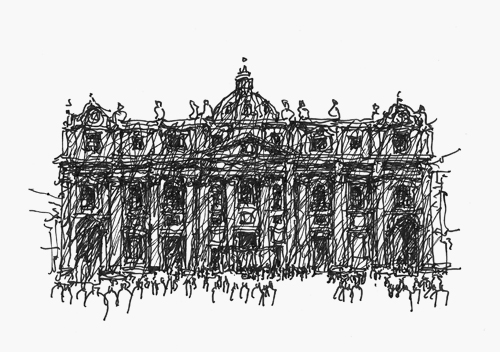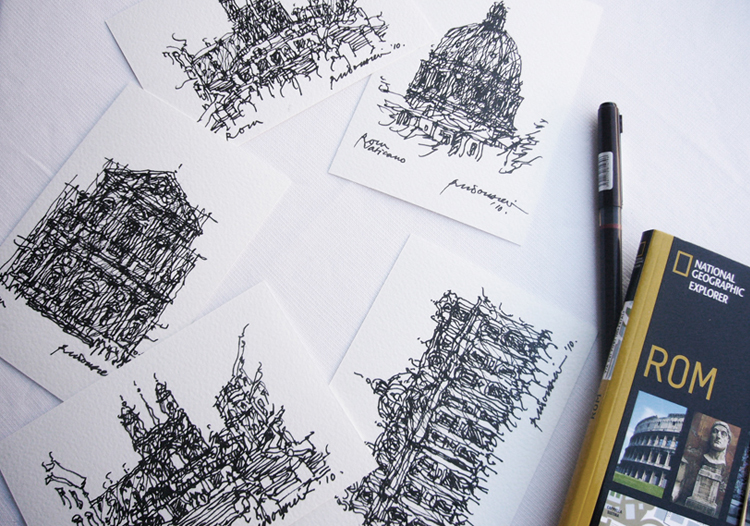 ZÜRICH, SCHWEIZ
"So leisten Deils sowohl zuverlässig dokumentierende als auch künstlerisch überzeugende Zeichnungen unentbehrlich Hilfe, unsere kostbaren Altstädte und Dörfer zu hüten, zu pflegen und zu erhalten."

Dr. Mane Hering-Mitgau, Kunsthistorikerin und Publizistin, ehem. Institut für Denkmalpflege an der ETH Zürich
NÜRNBERG, DEUTSCHLAND
"Rudolf Deil arbeitet die architektonische und städtebauliche Struktur markant und plastisch heraus... Nebensächliches, auch Störendes verschwindet, der Blick richtet sich auf das Wesentliche. Akzentuiert werden die Dachlandschaften, die Giebel, die senkrechten und waagerechten Linien und die städtebauliche Ordnung.

Deil hebt Einzelnes hervor, entdeckt die Qualitäten und Schönheiten des Alten. Sein liebevoller Blick ist für uns die Schule des Sehens."

Dr. Peter Fassl – Bezirksheimatpfleger von Schwaben Augsburg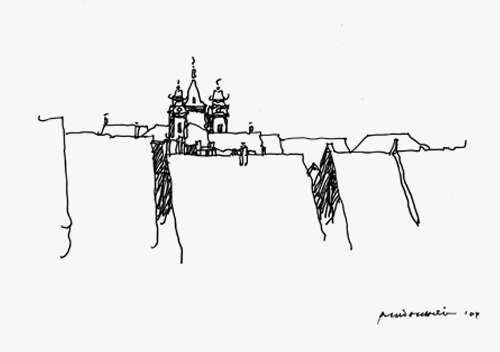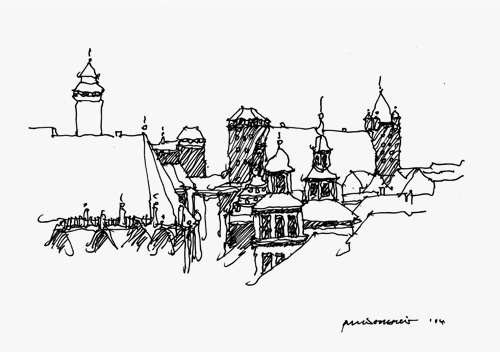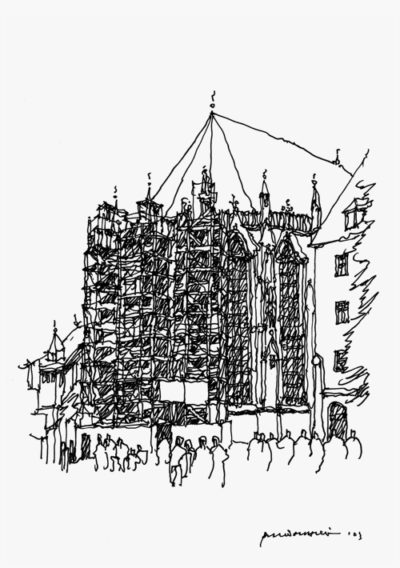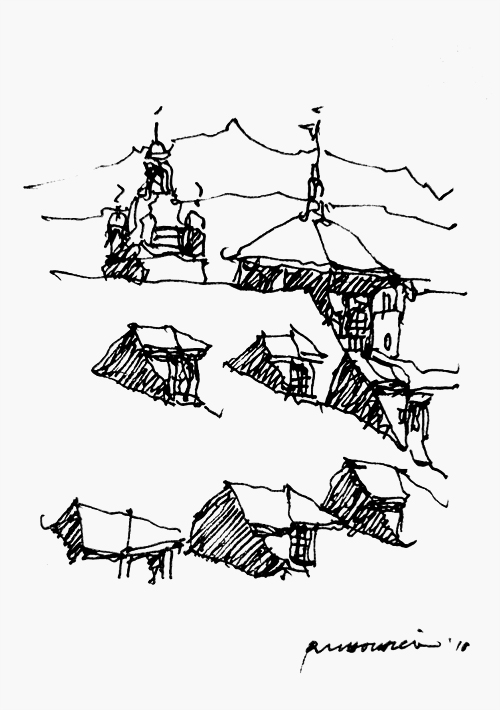 DRESDEN, DEUTSCHLAND
"Rudolf Deil nennt seine Filzstiftzeichnungen Architekturnotizen. Mir erscheinen sie – um im Bild des Schreibens zu bleiben – eher schon als Essays; ich sehe in diesen Zeichnungen mehr als nur das versuchsweise Herantasten an ihren Gegenstand, sie faszinieren mich auch und gerade durch ihre gleichsam abgeschlossene Form."

Leonhard Fünfschilling – Architekt und Publizist, ehem. Geschäftsführer des Schweizerischen Werkbundes SWB, Zürich